DID: +65 6827 5553
Email: suresh.nair@mayerbrown.com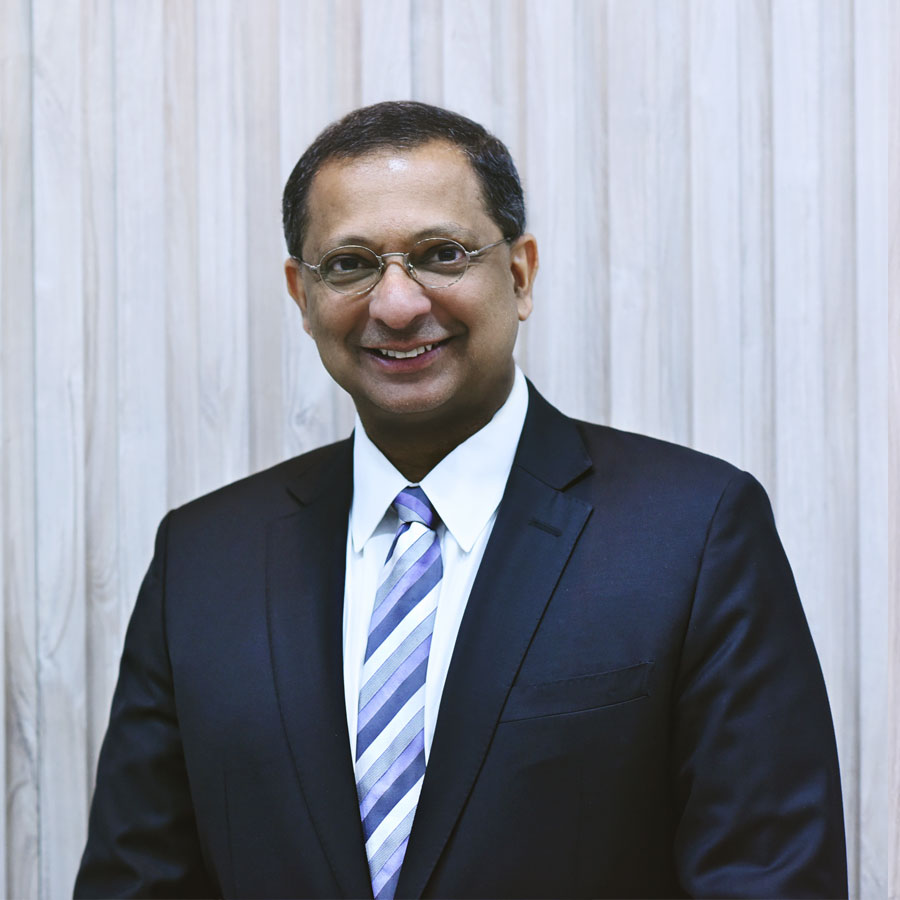 Lawyer's Profile
Suresh graduated from the National University of Singapore with an LLB (Hons) degree in 1993, and started his career at Allen & Gledhill, one of Singapore's largest law firms. He was a partner there for the better part of 2000 – 2010. In 2002 Suresh left Singapore to spend a year as a Legal Officer at the United Nations Compensation Commission in Geneva, where he reviewed war reparations claims arising out of the first Gulf war. He returned to Singapore in 2003. In 2010, Suresh joined Straits Law Practice, where he served as head of its Litigation Department. He established Nair & Co LLC on 2 October 2017.
Suresh's main areas of practice are corporate and commercial litigation, international arbitration, insolvency and restructuring, banking, and employment related disputes.
Suresh has also been admitted to the rolls of solicitors of the Supreme Court of England and Wales. He serves as an advocacy trainer for advocates and solicitors doing the Singapore Bar Examination. He also serves as a Racing Steward at the Singapore Turf Club, as well as a Judicial Officer with the Singapore Rugby Union.
Suresh has been cited in numerous publications as a leader in his fields. Asialaw Profiles 2015 said this about Suresh: 'Suresh knows how banks work and has a strong client focus.'" Asialaw Profiles 2016 said that "Nair's approach and professionalism have been singled out for praise by clients. 'He is one of the leading banking litigation lawyers in Singapore' notes a client, while another client points to the 'excellent results' achieved by Nair.'" In Chambers 2016 Suresh is listed as "a litigation partner with notable experience in the employment space. Interviewees appreciate his 'very strong knowledge and guidance on employment matters and very good people skills. He is regularly listed in Benchmark Asia Pacific 2018 and 2019 as a "Local Disputes Star" and is referred to as  "among the best insolvency practitioners in Singapore. An exceptional advocate, he is razor sharp and precise and provides timely and practical advice in the most personable way possible."  In IFLR 2019, Suresh is referred to as being "an incredible lawyer", "impeccable" and an "absolutely outstanding advocate and highly experienced lawyer. A joy to interact with". Client feedback in IFLR 2020 included this about Suresh and the firm: "Nair & Co is an outstanding Singapore law firm. Headed by Suresh Nair, his (and the team's) creativity and willingness to "go the last mile" for the client is unparalleled in Singapore.  Where other Singapore lawyers are ponderous and conservative, Suresh s a creative and highly agile lawyer. He and his team are problem solvers and are dedicated to their clients."
Memberships/Appointments:
Law Society of Singapore, Singapore Academy of Law
Admitted to the rolls of solicitors of England and Wales
Year called to bar, University:
1993, National University of Singapore
Significant Matters:
The Court of Appeal case of Orient Centre Investments Ltd & Anor v Societe Generale [2007] 3 SLR 556, a landmark decision on non-reliance clauses in standard banking terms and conditions. Suresh relied on such a Clause to have claims pertaining to complex structured products struck out against the bank as being frivolous and vexatious. The decision was mentioned in the UK High Court decision of JP Morgan Chase Bank v Springwell Navigation Corp [2008] All ER 115 (Jun);
The landmark decision of the Court of Appeal in the case of Pathfinder Strategic LP and another v Empire Capital Resources and another appeal [2019] 2 SLR 77, in which the Court of Appeal considered the extent to which third party releases may be given in schemes of arrangement;
Goldilocks Investment Co Ltd v Noble Group Ltd [2018] 5 SLR 425, in which Suresh successfully acted for an investor seeking an injunction restraining the convening of the Annual General Meeting of a Singapore listed company due to contraventions of the Securities & Futures Act. The High Court also considered the character of the Securities & Futures Act as a forum mandatory statute.
The landmark decision of the Court of Appeal in the case of Animal Concerns Research & Education Society v ANA Contractor & Anor [2011] 2 SLR 146, in which Suresh acted for the successful plaintiff animal welfare group and the Court of Appeal reviewed the law of negligence in construction disputes in which there are concurrent contractual duties;
The case of Living the Link (Pte) Ltd (in creditors' voluntary liquidation) and others v Tan Lay Tin Tina & Others [2016] 3 SLR 621, in which Suresh acted for liquidators in another landmark case involving breaches of directors' fiduciary duties and undue preferences given by an insolvent company to associated companies prior to liquidation;
The High Court case of Lim Kok Lian (executor and trustee of the estate of Lee Biau Lian, deceased) v Lee Patricia (executor and trustee of the estate of Lee Biau Lian, deceased) [2015] 1 SLR 1184, in which Suresh successfully struck out a claim for the tort of malicious prosecution of civil proceedings as disclosing no reasonable cause of action. The case was the first in Singapore to decide on the tort of malicious prosecution of civil proceedings and its elements;
First Asia Capital Investments Ltd v Société Generale Bank & Trust and Another [2017] SGHC 78, where he successfully defended the bank against claim for in excess of US$ 15 million arising out of losses suffered in investments in equity accumulator transactions;
Acted for bondholders holding in excess of US$50 million of debt in landmark decision of the High Court in the case of Pacific Andes Resources Development Limited and other Matters [2016] SGHC 210 involving the jurisdiction of the High Court to grant moratoria in aid of schemes of arrangement under section 210 (10) of the Companies Act when foreign companies are involved and when a blocking majority claims to oppose any scheme;
BTY v BUA and other matters [2018] SGHC 213 – acted for a party to arbitration in an important decision on the applicability of an arbitration agreement in a shareholders' agreement to a dispute framed as being as under a company's articles of association, but which could have been brought under the shareholders' agreement as well.  The Court decided that the arbitration agreement did not apply, but granted leave to appeal to the Court of Appeal. The appeal hearing has not yet been fixed for hearing.
Re Swiber Holdings Ltd [2018] SGHC 211 – acted for trustees in an important High Court decision on the role of Notes Trustees when the Note Issuer becomes insolvent, and on the manner in which the Notes Trustees' votes should be counted in creditors' and Scheme meetings under sections 227M, N and X of the Companies Act.
Ministry of Rural Development, Fishery, Craft Industry and Environment of the Union of the Comoros v Chan Leng Leng and another [2013] SLR 214, where he acted for a national government in relation to a claim involving fishing rights in the Indian Ocean;
Hady Hartanto v Yee Kit Hong and others [2014] 2 SLR 1127, where he acted for the plaintiff in a defamation suit arising out of an announcement made in respect of a publicly listed company on the Singapore Exchange;
Tan Chi Min v The Royal Bank of Scotland Plc [2013] SGHC 154, where he acted for a bank employee in relation to the LIBOR rate fixing scandal;
Edwards Jason Glenn v Australia and New Zealand Banking Group Ltd [2012] SGHC 61, in which Suresh acted for the bank customer against the bank in relation to foreign currency loans and their conversion;
Baldor Electric (Asia) Pte Ltd v Liew Chin Choy and others [2010] SGHC 32, where Suresh acted for a company against a former officer in a claim for breaches of fiduciary duties and duties of good faith and fidelity in a matter involving companies in Singapore and Indonesia;
Arubugam Suppiah v Curt Evert Borgensten [2001] SGHC 199, a major multi jurisdictional shareholders' dispute involving Court and international arbitral proceedings, in which Suresh acted for the successful plaintiff, obtained injunctive relief against the defendant and sanctions against the defendant for contempt of court;
Bayersiche Landesbank Girozentrale v Teh Li Li [2000] 3 SLR (R) 345, where Suresh acted for the successful plaintiff bank in a guarantee claim involving principal borrowers in Malaysia;
Bilia AB v TE Pte Ltd and Others [1999] SGHC 96, where Suresh acted for the plaintiff in arbitral proceedings and in court proceedings seeking security for costs as ancillary relief under s 388 Companies Act. The case applies the test for corporate insolvency to applications for security for costs;
Re Griffin Securities Corp [1999] 1 SLR (R) 219, a landmark decision on the jurisdiction of the Singapore Courts to wind up a foreign company without a place of business in Singapore;
NM Rothschild & Sons (S) Pte Ltd v Plaza Rakyat Sdn Bhd [1995] 2 SLR(R) 565, an important decision on forum non conveniens, in which the Court considered the issue of service in Singapore on a foreign party and the application of Order 11 Rules of Court to such cases;
Transniko Pte Ltd v Communication Technology Sdn Bhd [1995] 3 SLR (R) 941, where Suresh acted for the successful defendant in an application to stay proceedings in Singapore on the basis of forum non conveniens. The Court considered the scope of the duty of full and frank disclosure in applications for leave to serve originating processes outside the jurisdiction;
Acted for 16 brokers in a substantial employment dispute involving 2 multinational brokerage firms in a case involving an injunction in enforcement of a restraint of trade clause;
Acted for Berau Capital Resources Pte Ltd and related companies in Court proceedings in Singapore and Chapter 15 proceedings in the United States in a US$1 billion bond restructuring exercise;
Acted for Swissco Holdings Limited in an application for the appointment of Judicial Managers in view of corporate debt of more than US$200 million;
Acted in an SIAC arbitration valued in excess of US$30 million in respect of the sale of palm oil plantations in Indonesia;
Acted in an SIAC arbitration for a national government against insurers in a matter involving a national insurance scheme;
Acted for a Singapore listed company in a dispute valued at over $20 million relating to coal concessions in Indonesia, in a matter that involved concurrent Court discovery applications;
Acted for the liquidators in the liquidation of SPH Mediaworks Ltd, a major Singapore broadcaster, in 2005;
Acted in the liquidation of the RGM group, a large group of media companies with interests in Singapore and Australia.
Dedicated to quality service without exception